modifications / maintenance
Goals for my RS:
1. Bring a smile to my face each time behind the wheel.
2. Make total strangers come up to me and ask questions.
3. Run 11s in the 1/4 mile on 93 octane gas and street tires.
4. Survive weekend trips around the Louisiana countryside on its crappy roads.
5. Complete multiple autox or lapping day sessions per day without issue anytime/anywhere.
Planned future mods:
1. More power
2. 18" wheels / Track oriented tires
3. Continue tasteful weight reduction
Weight Reduction completed so far: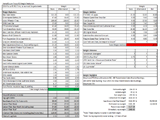 Current Certified Weight = 3,222 lb (1/2 tank of fuel)

Best 1/4 mile pass while modified: 12.826@109.54mph [Details Here]
Best 1/4 mile pass while completely stock: 13.499@102.15mph [Details Here]
maintenance gallery